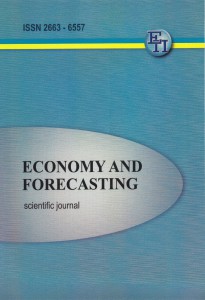 ISSN 2663-6557 (Print English),
ISSN 2518-7449 (Online),
ISSN 1605-7988 (Print Ukrainian)
Key title: Economy and forecasting 
Other variant title: Ekonomìka ì prognozuvannâ
Period of publication    Quarterly.
Founder    Institute for Economics and Forecasting,  National Academy of Sciences of Ukraine
Editor-in-Chief     Valeriy HEYETS
"Economy and forecasting"  journal has been published since 2019 as a translated version  of  "Економіка і прогнозування" journal, which is published in Ukrainian. Website of the Ukrainian version:  http://eip.org.ua/
The Edition's languages are English and Ukrainian
Registered by State Registration Service of Ukraine Certificate of state registration.
https://doi.org/10.15407/econforecast
Scope of Problems: forecasting on the prospects of the development of economy, science, and technology, ways and methods of solving the problems of social and institutional reforms and the  functioning of the new economic model; economic and mathematical methods and forecasting models; market research,  structural changes, socio-economic dynamics; dealing with the issues of innovative transformations and prospects for an innovation and investment based development; highlighting current issues of the combination of economics and politics. The journal is dedicated for researchers, and higher school professors and students, officials of the government and public institutions, employees of the banks, companies, organizations and institutions, and businessmen.
The journal's editorial policy is based on the principles of impartiality and objectivity, high standards for quality research, support for new knowledge, collegiality in the decision making on publishing the articles, strict compliance with copyright and related rights and the categorical rejection of any form of plagiarism.
Publications in the journal are free. All articles are reviewed.
PUBLICATION ETHICS AND MALPRACTICE STATEMENT
The Editorial Board supports the Budapest Open Access Initiative aimed at free and gratis dissemination of scientific knowledge, which facilitates the rapid development of science.


      Creative Commons Attribution 4.0 International License

  Open Ukrainian Citation Index (OUCI)

   RePEc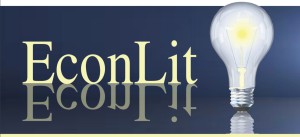 EconLit

    EBSCO

   Ulrich's Periodicals Directory

   Google Scholar
Tel     +38(044) 254-20-36
Fax    +38(044) 280-88-69
E-mail:    eip@ief.org.ua